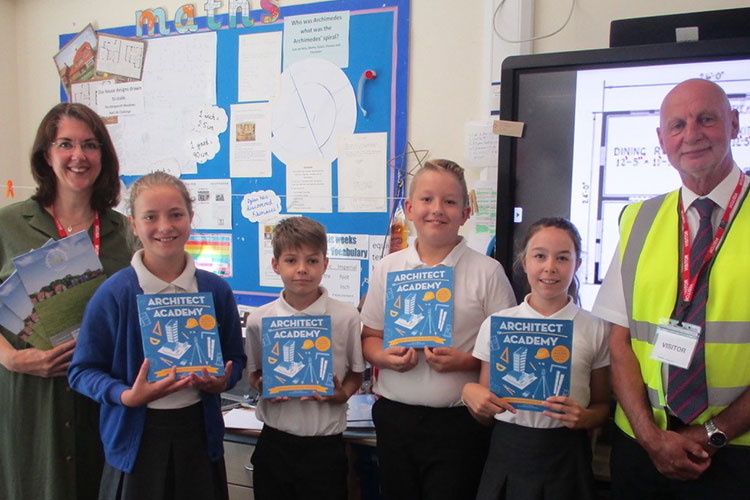 Children at Thakeham Primary School were challenged to become young architects by housebuilder Oakford Homes who asked them to produce scaled floor plans for a new home of their own design.
Mike Lenton, project manager at Oakford Homes, joined Emma Hopkins's class of Year 5/6 to introduce the challenge. "We talked about how important accurate plans are and how many different skills are needed to build a house," said Mike, "from laying foundations to planning the kitchen and bathrooms ready for the final owner, and how everyone involved will be relying on the architects' plans."
Oakford Homes is currently building new homes, sports pitches and community facilities at Abingworth Meadows in Thakeham and has worked with the teacher, Emma Hopkins, to create a challenge which demonstrates to the children the importance of maths in the workplace.
Mike returned to judge the entries and present prizes in four categories - originality, presentation, build-ability and effort.
"Judging was much more difficult than I expected," said Mike. "The standard of work was exceptionally high, far more advanced than I'd anticipated, so it was a very hard task to pick the winners in each category and there were some very close second places.
"Every entry had some interesting and impressive ideas. We especially liked the ideas of a treasure room and a dance studio and there were lots of gaming rooms and home cinemas!
"I hope these young architects keep their designs to look back on in years ahead especially if they go into housebuilding in the future. There are so many different career options in housebuilding and it would be lovely to think that some of these amazing children here in Thakeham Primary will go on to become architects, engineers and builders one day."
Mike asked how many children would like to be architects in future and lots of hands shot up.
Emma Hopkins, added, "It's been a real pleasure to work with Oakford Homes on this project. The children have really enjoyed creating their own floor plans and they've learnt a lot along the way about the complexity of designing a new house. I've been really impressed at the way they've all tackled the challenge and they should all be very proud of their designs."