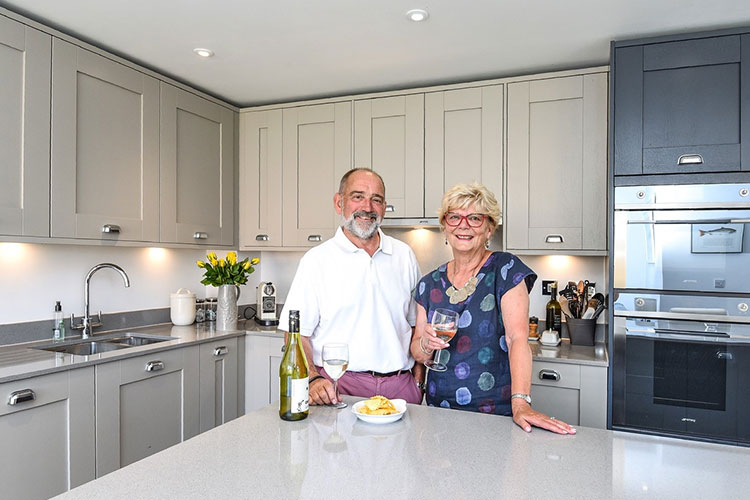 "As soon as we saw this development on Fowlers' website we came straight over to see the new houses and immediately got cracking to put our house on the market," said Christine Hough, who has recently moved into one of the newly built homes at Abingworth Meadows with her husband, Barry.
"It took a while to get a complete chain but once it was all in place, we chose our new home and seven weeks later we moved in. The sales team were brilliant - Fred, Ruth and Lesley were all so helpful, they just kept in touch all the way through. And since moving in, Amy Heaslip has been our contact at Oakford Homes and she's been excellent as well, so we feel very well looked after."
Barry and Christine chose a house in The Bloomsbury design. The substantial detached house has five bedrooms, including two with large ensuites and wardrobes. Downstairs accommodation features a full width kitchen/dining/family room and a separate utility room with access to an integral double garage.
"It was the kitchen which sealed it for us really, as it's so open plan and we get the morning sun. We also liked the five bedrooms as we'd wanted somewhere bigger than our 16th century home which we had lived in for 20 years."
Barry works from home and uses the fifth bedroom as a study which overlooks the large Abingworth Meadows pond complete with fountain. Christine is a keen gardener and is already planning the landscaping for the garden which is currently turfed and ready to enjoy this summer.
"The family have already all been to stay overnight and although they don't live far away, there's plenty of space for everyone. We've also had our grandchildren to stay over one weekend without their parents which was great fun."
Abingworth Homes and Oakford Homes are creating a diverse selection of properties at Abingworth Meadows where the current release of homes includes some unusually large two and three bedroom detached houses priced from £575,000, and there is an impressive choice of designs of five bedroom homes which are priced from £705,000.
The show home is open daily from 10am to 5pm and for interested homebuyers who have yet to sell their own home, the Oakmove Scheme has now been introduced on selected properties to guide you through the moving process.
For more information, contact Fred, Ruth and Lesley in the sales suite on 01798 813071 or email them at thakeham@oakfordhomes.co.uk.