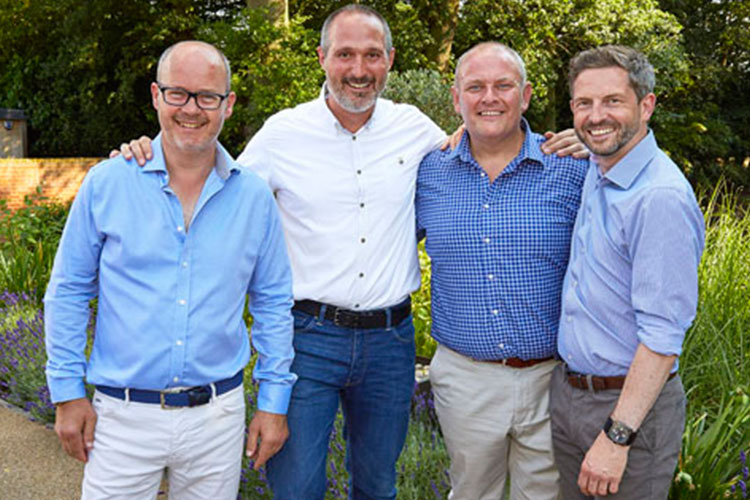 Oakford Homes marked the company's successful first decade with a celebration of its 10th anniversary this July.
Guests from their extended team of suppliers and partners were invited to the Oakford Homes HQ in the Buckingshamshire countryside where they joined all the staff for strawberry gin fizz, beers and a barbecue in the blazing sun.
The housebuilding company was launched in 2008 by four directors - Chris Coates, Stewart Greenwood, Sebastian Kemp, and Ian Ralston - who bring a combined industry experience of more than 100 years to Oakford Homes.
Chris Coates, formerly the Regional Chairman at Linden Homes, said, "From our first scheme of eight homes in Twyford, Berkshire we've kept to our promise of delivering homes which are unique, and which have both innovative design and impeccable finish. It starts with land buying of course, which was my first specialist area in the industry and which I still really enjoy today.
"Since we started the company with we've built more than 500 homes. The four of us set out to create a company to be proud of, not just as Directors, but everyone who works alongside us and of course our customers.
"In the past 10 years we have only ever had three members of staff leave us, so it was a great pleasure for us to welcome so many familiar faces from organisations we've worked with in the past 10 years who have contributed so much to and shared in our success."
Oakford Homes have developed a wide range of residential properties over the decade, from stylish one bedroom apartments and office conversions to luxurious country homes and mixed use schemes.
"Looking forwards, we are currently operational on sites in West Sussex, Greater London, Buckinghamshire and Hampshire. We're also about to release our next homes for sale: 23 one, two and three bedroom apartments within walking distance of Henley upon Thames town centre and 7 townhouses in Hampton - and of course we're always happy to hear about new land opportunities in the southern counties."