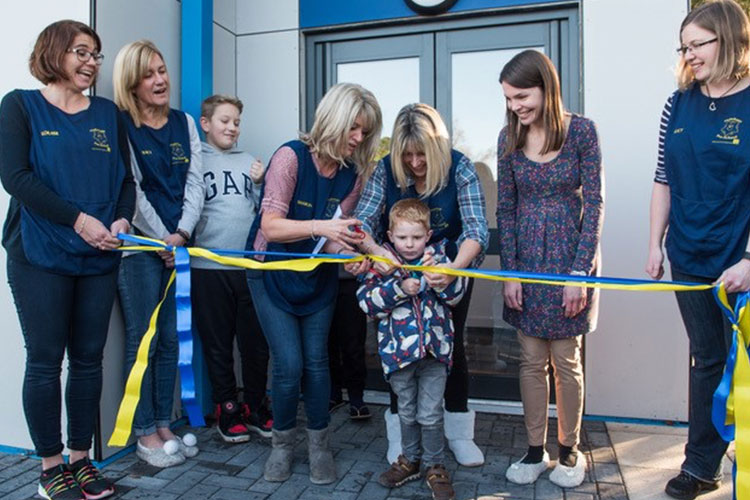 The ribbons were cut on Friday 5 January to mark the opening of the brand new premises of Thakeham Pre-School at Abingworth Meadows, Thakeham.
Sharon Rance, who heads the growing pre-school, gave an emotional speech thanking all her staff and the children who have attended, past and present. She also paid tribute to those who had helped over the years in enabling the move to the new 'home' particularly Neil St Clair, an ex-parent.
Also joining the celebrations were members of the Parish Council including Alan Hunt (Chair), who said "We are delighted to see the staff and children enjoying their wonderful new facilities and are looking forward to this exciting new phase of partnership".
Representing the first of hopefully many generations attending pre-school at the new premises, one of the youngest members, George, was then invited to step forward to cut the ribbon, watched by a crowd of around 80 local friends and families.
"We are all delighted with our new 'home' and the wonderful difference it will make to the children and to us," said Sharon. "We just know everyone will love it as much as we do - there's so much space for the children to enjoy, and it's light and bright. We're so passionate about creating a 'home from home' environment so that the children are relaxed and comfortable and with all this space here, both inside and out, they can really explore to their hearts' content."
Design of the premises has taken into consideration acoustics, a pleasant working environment, solar PV for generating electricity and underfloor heating. Child sized toilets and low level basins are in the cloakroom while a kitchen is complete with dishwasher and washing machine. Outside there is a selection of climbing and play equipment, raised garden beds and a garden shed for storage.
"We were genuinely delighted to welcome so many people to our Open Day," added Sharon. "And we have already had three new children joining us and more enquiries on the day. All together we're all looking forward to a very happy new year ahead."
The new setting for Thakeham Pre-School is one of several new community buildings which form part of the landmark Abingworth Meadows development which will also include a village hall, sports facilities and a village shop.
Thakeham Preschool welcomes enquiries via thakeham@hotmail.co.uk or visit thakehampreschool.uk.com.