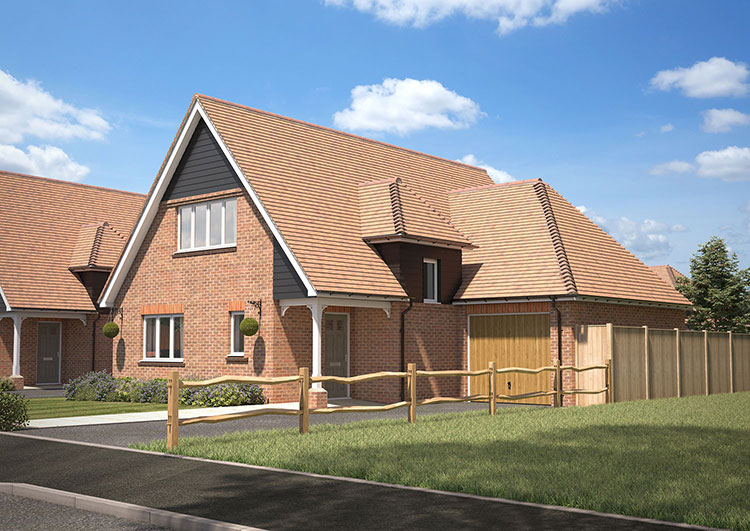 A brand new phase of high quality homes will be released for sale on Saturday 21 April at the landmark development of Abingworth Meadows, which is surrounded by countryside in Thakeham, just outside Storrington at the foot of the South Downs.
Following the successful sales of homes in Phase I, award-winning housebuilder Oakford Homes in conjunction with Abingworth Developments, is about to unveil the latest view home to demonstrate the first of the new 2, 3 and 4 bedroom designs in the next phase which will be known as 'Evergreen'.
Chris Coates, managing director of Oakford Homes, said, "Our second phase introduces some new house designs which have been created for people looking for generous room sizes and plenty of light without compromising Oakford's high quality specification and finish.
"Our aim is to design and build homes which are distinctive and uncompromising which we hope we're achieving at Abingworth Meadows. We've been delighted with the feedback from our customers and visitors to date and have now set out to build on this further by providing homes which have wider appeal in terms of price but with the same high quality both inside and out."
About to be released for the first time are just two homes in 'The Brooklime' design which will feature two well-proportioned double bedrooms, each fitted with ensuite facilities and built-in wardrobes with mirrored doors. Downstairs accommodation includes a spacious living room and an open plan kitchen/dining/sitting room, perfect for modern lifestyles but in particular the buyers that are not looking for family homes at this stage of their lives.
Kitchens are fitted with stylish, silver grey units with feature lighting and stone worktops. Appliances including a five ring hob, dishwasher and combination microwave are by Smeg. The comprehensive specification includes a combination of carpets and Minoli floor tiles throughout so the home is ready to move into from day one and peace of mind with front doors fitted with a Secure by Design multipoint locking system. The level of detail extends into all areas of the home, even the feature mirror in the master ensuite which incorporates a heated demister.
'The Vervain' house design will also be released on 21 April. This character home provides three bedrooms while complementing the downstairs open plan kitchen/dining/family room is a separate, practical utility room.
Both styles of new home will also benefit from an adjoining garage.
"We're very proud of these two house designs which will bring a whole new dimension to Abingworth Meadows," said Chris. "Coupled with the new community facilities which will be opening this summer, including a village hall and the new cricket pitch, it's already becoming a fantastic community, all of which helps to make this a uniquely special place to live."
More details about the first of the 'Evergreen' homes are available now via the Abingworth Meadows marketing suite which is open daily between 10am and 5pm (01798 813071) or email Lesley McKay and her colleagues at thakeham@oakfordhomes.co.uk to book your appointment for the launch of the new view home on Saturday 21 April.