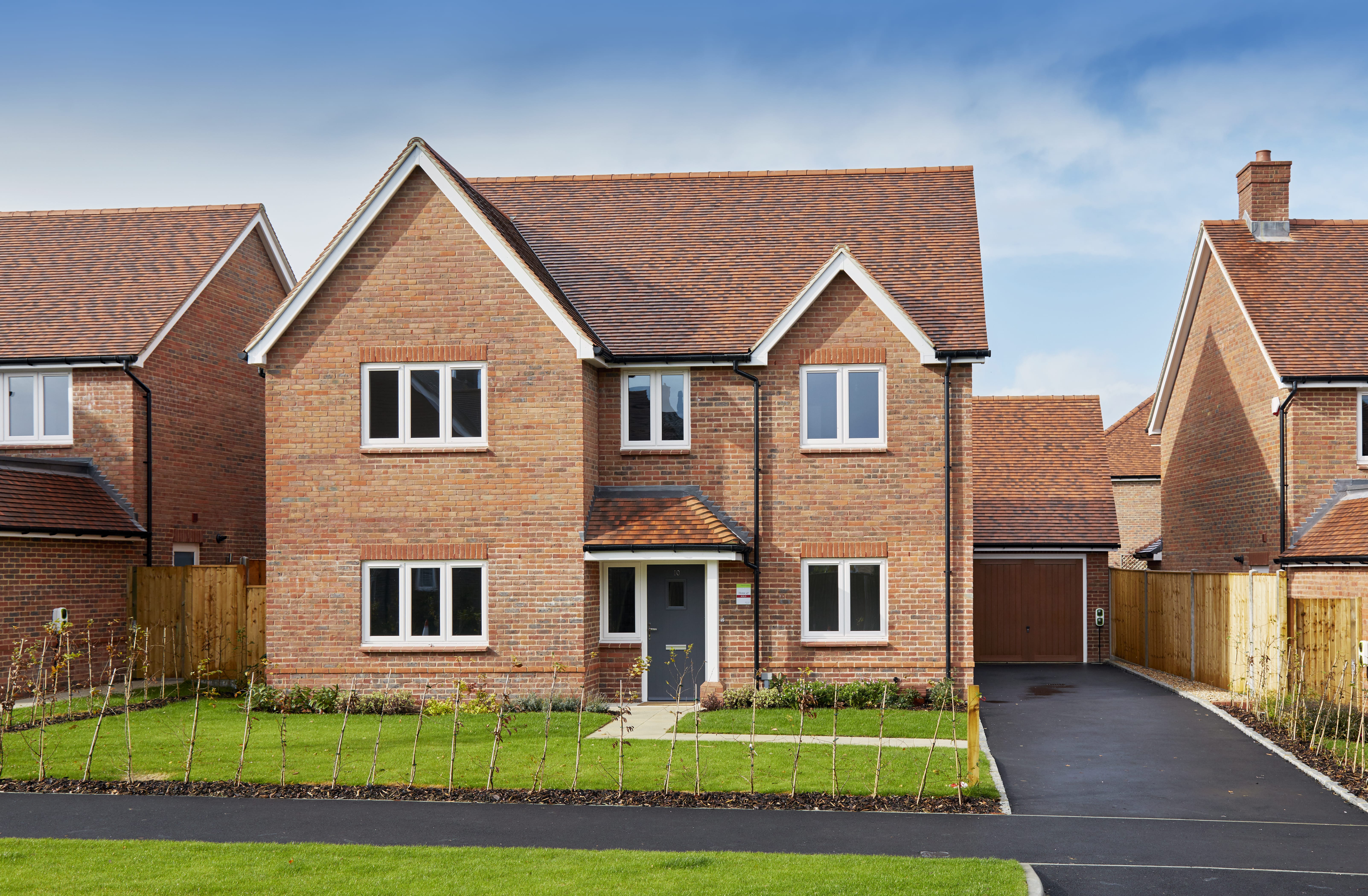 After 22 years of living in their house in Petts Wood, John and Julie Downs decided it was finally time to move to a newly built home and they couldn't be happier with their decision.
The couple chose a 4 bedroom detached house built by Oakford Homes at Abingworth Meadow, Thakeham, a landmark development of homes and village amenities surrounded by open countryside in West Sussex.
Julie explains, "Our 1930s house backed onto a park where John played cricket so it was his dream home but because it was an older house, there was always something that needed to be done and we were both working all hours. It was during the first covid lockdown that we agreed we've really got to move. Luckily we sold our 3 bed house very quickly and now we've got a 4 bedroom detached!"
As they have family in Angmering, the Downs started looking for a home nearer the south coast but on the drive back to south east London, they spotted signs directing them to Abingworth Meadows and decided to investigate.
"Something made us follow the arrow boards and we were just blown away when we got here," says Julie. "I thought there would be nothing we could afford but with a new phase being released for sale, it was as if it was meant to be. The house we chose had a good size garden and a nice outlook across to the pond and the fountain. But someone else already wanted this one so we didn't think we'd get it. When we were told that the other buyer had switched to a different house at Abingworth Meadows and this one was available, I just felt really lucky."
Julie and John were impressed with the high standard of specification in every Oakford home, which included a high quality kitchen with stone worktops and Smeg appliances, flooring throughout, and a lawned back garden so the house was ready to enjoy from the day you get the keys.
"Every new house looks wonderful at first but when you start to look more closely, it's not always quite the same. There just wasn't anywhere else we'd seen which was as good as Oakford. The show home looked so nice and we have the same fittings in our home. Everywhere is very neutral with charcoal and ivory kitchen units with a taupe stone worktop. I love the open plan kitchen/dining/living area. I do love cooking and now if we've got friends round, they can either sit at the breakfast bar stools, the dining chairs or on the sofa! The most important thing is that we're all together to enjoy each other's company."
The Downs chose their 4 bedroom home in 'The Willow' design with its generous room sizes which instantly appealed to Mr and Mrs Downs and their two sons, who are now in their early 20s and enjoying the extra space provided by their new home.
Julie explains, "We have an ensuite now which I love, whereas before we had one bathroom for all of us. Now there's so much more space to be together or have our own rooms. The big open-plan kitchen/living area has doors onto the garden. Before moving here, I was always too busy working or looking after the family so I never sat in the garden but now I'm really enjoying relaxing in the garden more than I've ever done in my life!"
Their house comes with a detached garage, a long driveway, and a landscaped front garden which was another plus point for the Downs family.
"As Oakford Homes have completed all the front gardens with loads of plants and lawns already laid, it's lovely as you move in and everywhere just looks so nice."
After so long in their previous property, it can be quite an upheaval to move but Julie and John approached their move as the chance for a fresh start. "We sold some of our old things we no longer needed and threw out some stuff as well. The loft in our old house was full of rubbish really so it was quite nice to clear things away.
"As we drove away from the old house, I had no regrets at all. It doesn't take long if we want to go back and see friends as they're only an hour away," Julie adds. "And when we arrived here at our new home, we could just walk in and just put everything away!"
Now that Julie and John are settled in and have met some of their new neighbours, they're also enjoying the amenities within the scheme and becoming part of the growing community.
"Having a shop on the doorstep is a big bonus," says Julie, "especially if you just need to buy the odd thing, so that's brilliant, it's so convenient. We've also got a vet here so we've already registered Jackson, our little Shih Tzu Maltese cross. It took him a while to settle but there are so many lovely walks to go on from here and we can look out over the South Downs, it's such a lovely place to live.
"One of our sons plays cricket and one plays football so this was perfect as there's both cricket and football pitches within Abingworth Meadows. In fact, our eldest son now plays for the local West Chiltington & Thakeham Cricket Club. We just feel like we're constantly on holiday.
"I really think it's a case of the right place at the right time. Everything's perfect, it's everything I always wanted."