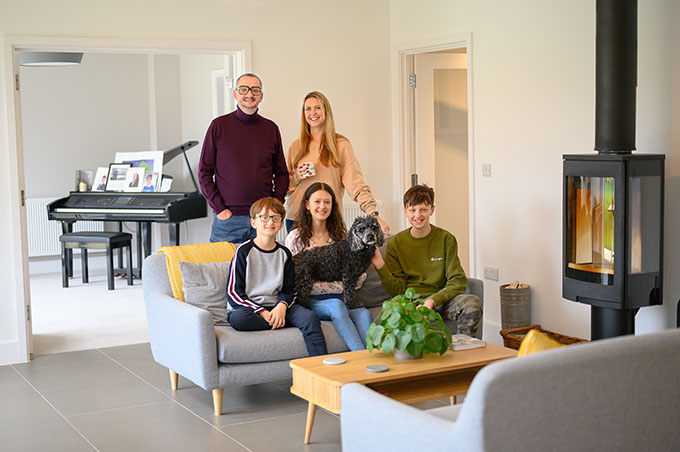 As they were driving through the Sussex countryside, Ellie and Jonny Yurtsever spotted signs for the new homes at Abingworth Meadows, and took a quick detour to look around the show home. The family instantly fell in love with this new Oakford Homes development in Thakeham.
Ellie explains, "It was about two years ago that we first set eyes on Abingworth Meadows but at the time we weren't looking to move as we were planning to extend our house in Steyning. Fast forward to this year and by then we'd had plans drawn up but it still wasn't ideal and would be expensive, so we started thinking about what else we could get for the money. My husband suggested we come back to look at Abingworth Meadows again."
Ellie was a little concerned that the location might be too rural compared to their Steyning home but when Fred Aitkenhead, sales advisor for Oakford Homes, showed them some of the latest homes available, they found them hard to resist.
"We both thought, oh these are amazing! I remember looking over the fence to see our house being built. We'd looked at other new builds in quite a wide area but let's just say they were depressing, there was no wow factor."
The couple put their house on the market and within a few weeks, they had a buyer. Ellie rang Fred the very next day and came straight down to reserve their new home.
"It's all quite open and so light, it's a perfect family home. All of our three children love the development, it's phenomenal, just the way it's so spacious and airy with fields at the back. My teenage daughter had three friends for a sleepover and there was lots of space in her bedroom for them all. We're really enjoying all the new walks around here with our dogs, it's such a lovely area.
"And because we ended up spending less than we thought, we've treated ourselves to some new furniture as there was nothing else required - all the carpets and flooring is already fitted.
"Oakford Homes hasn't scrimped anywhere with the specification, either. There's a Fisher & Paykel oven and Smeg appliances, and Hansgrohe in the bathrooms. It's what you'd choose yourself, and the light grey carpet feels so much more current than all the magnolia we saw on other developments. I can't get used to how warm it is, because it's so much more energy efficient than our old home.
"Abingworth Meadows is just not like anywhere else. After all my worries about moving to a new area, we've found it's now much easier to get to Horsham and Chichester and the other night we went for dinner in Arundel, so moving here has really opened up new areas for us."
To discover Abingworth Meadows in Thakeham, where prices for the latest release of new homes currently range from £409,950 for a substantial 3 bedroom semi-detached house and from £529,950 for a 4 bedroom detached home, call in to the sales suite and show homes which are open every day, including weekends, from 10am to 5pm. Alternatively get in touch with the sales advisors on 01798 813071 or visit oakfordhomes.co.uk.
"When I was researching Abingworth Meadows, I started following Oakford Homes on Instagram where I read about a nice couple who had bought here," said Ellie. "And as soon as we moved in, I recognised Christine and Barry from that Instagram post and it now turns out we're neighbours!"